Statement from MFFA President Malone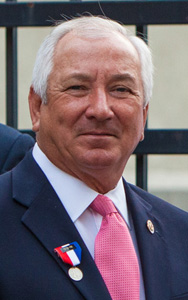 Brothers and Sisters,

By now, you've heard or seen on the news that, as suspected, Mayor Strickland failed to include a base wage increase for you in his Proposed FY2018 budget.

While we negotiated in good faith, the mayor's team, at the last minute, brought us a first and last best offer, which was unacceptable, and forced us into impasse, once again, to settle disputes with the City Council, instead of handling it at the negotiations table.

I read the mayor's "explanation" email that was sent out job wide. While running for mayor in 2015, Mr. Strickland did in fact vote in favor of the union's impasse package bringing a 1% increase in June 2016 and a 2% increase in July 2016. The 2% in January 2016 he boasts about was a council action outside of impasse and that action was led by Councilman Reid Hedgepeth, not then-Councilman Strickland. I remind you that this mayor, who makes it sound as though he was solely responsible for your wage increase in 2016, was the same then-councilman who helped keep you from getting a raise for six years prior to that. Many members may not know, this Mayor tried to stop the implementation of the increases that we won at impasse in 2015. It was only under the threat of legal action that he put the raises in effect. This is the second year now of this administration and this mayor has not instituted any new wage increases on his own, only instituting an increase approved by a previous city council.

I find it almost humorous that the Mayor and his "team" implemented a new health insurance plan with an HRA; tried to talk folks into moving over to it; and get mad when more than they anticipated moved over to the plan and cost the city more than they anticipated. Contrary to what the Mayor alludes, you're not the cause of the increase in health insurance payments, his staff is.
It's obvious that the Mayor and others at City Hall have priorities, but members of the Fire Department aren't one of them. It makes me sick to my stomach that our members are made to be political hot potatoes trying to make ends meet while big business owners around this city are exempt from paying their fair share of property taxes to fund necessary city services that they're receiving for pennies on the dollar.

We have only started the budget process and there are council members who do not agree with the Mayor's proposed budget in that you are not receiving an increase. We will see what happens at the end of the day. The budget process takes many twists and turns until June 30th.

I want each one of you to know that this union will advocate and fight on your behalf to the gates of Hell and back today, tomorrow, and for years to come. While the Mayor and his Administration may not appreciate you, the officers and board members of this union do.

We will continue to keep you informed as much as possible. There may be times we call on you to attend a council meeting, and we hope you'll find it in your interest to attend when asked.
I want to thank you again for what you do each day. You continue to be the top-rated division in city government. Be safe out there.

Fraternally,

Thomas Malone
President
IAFF Local 1784